Read President Crow's statement on the 2017–2018 tuition proposal
About the 2017-2018 tuition proposal
Arizona State University has been selected by U.S. News and World Report as the most innovative university in the United States for the second consecutive year, ahead of Stanford University and Massachusetts Institute of Technology. The faculty, staff and students continue to advance the university in major ways as highlighted by a very small sample of exemplary achievement:
ASU ranked in the top 10 in the U.S. for employability by the Global University Employability Survey 2016, ahead of MIT, Columbia, UCLA
U.S. News and World Report ranks ASU's online bachelor's degree program No. 4 in the nation, ahead of Ohio State University, Pennsylvania State University and the University of Illinois.
ASU has been selected to lead the Psyche Mission, a $450 million grant which will be a deep-space NASA mission.
In February, ASU announced its 100th spinout company, Gemneo Bioscience, which will provide physicians with more optimal cancer treatments and immunotherapies to help improve cancer outcomes.
With 43 Sun Devils currently volunteering worldwide, ASU jumped nine spots this year from its 2016 ranking on the Peace Corps' Top Volunteer-Producing Colleges and Universities list, securing a spot in the top 15.
ASU ranks eighth out of 115 universities for DARPA Young Faculty Awards ahead of Columbia University and University of California-Berkeley.
Barrett, the Honors College enrolled 6,900 students with more than 800 national scholars across all the campuses.
Sandra Day O'Connor College of Law graduates are #1 in Arizona for state bar passage.
ASU student athletes have an 84% graduation rate and are only second to Stanford in PAC 12 Scholar Athletes of the Year, most Academic All-Americans since 2000, and most NCAA post graduate scholarship recipients since 2000.
The New American University will continue to offer multiple delivery systems to reach the broadest number of aspiring students and remain affordable within the higher education market. The chart below outlines the present position for ASU's market price.
Market Price Model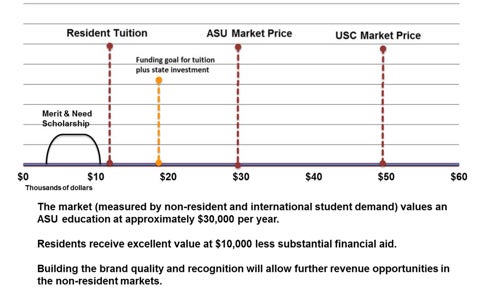 ASU also strives to match the state's diversity by expanding the admissions pipeline and investing in students through financial aid. As reflected by the chart below, the institution's strong ongoing commitment to lowering the tuition price through financial aid for those who would otherwise not be able to enroll is evident. In fact, the commitment to financial aid is crucial to affordability. For those full-time Arizona residents with annual family income of $34,999 or less, financial aid completely covers tuition allowing additional gift aid to assist with other educational costs. For those in households earning $35,000 to $49,999, students pay only an average of $500 in net tuition.
ASU Full-Time Resident Undergraduate Students 2016 Net Tuition Paid (after gift aid and tuition benefits)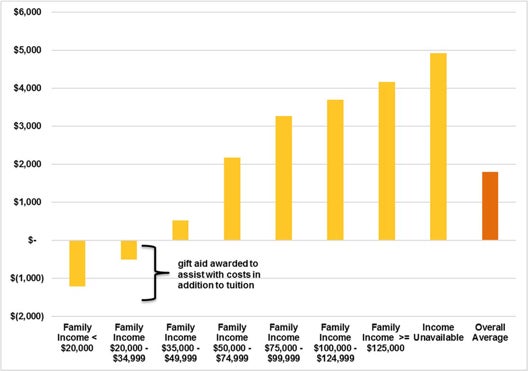 Through small tuition adjustments coupled with financial aid investments, ASU has actually increased the economic diversity of its entering class over the last fourteen years, as indicated in the following chart.
ASU First-Time Full-Time Freshmen Enrollment by Adjusted Family Income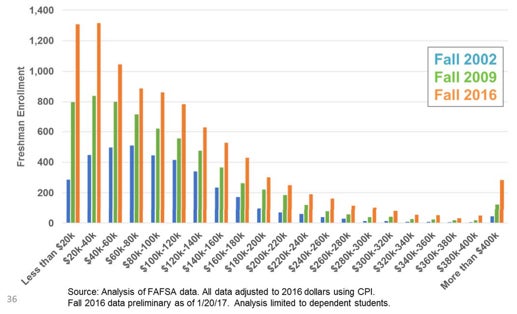 ASU Proposal
As we plan for the coming year, we are as determined as ever to lead nationally and internationally in both our teaching and research endeavors with the incremental infusion of tuition revenue proposed, along with other resources garnered.
For the fifth consecutive year, we are maintaining our pledge to propose a small, incremental tuition increase. For resident undergraduate students, we propose a $150 tuition increase, a 1.5% increase. Tuition, surcharge and mandatory fees would increase from $10,640 to $10,792. Resident graduate students will see a $160 increase, also a 1.5% increase, with total tuition, surcharge and mandatory fees increasing from $11,776 to $11,938. No change is proposed for the resident surcharge or mandatory fees. Arizona Financial Aid Trust Fees, a statutory calculation, will increase by $2 on all tuition categories.
The tuition rates remain near the American college average for non-resident and international students. For non-resident undergraduates and graduates, the tuition increase would be $900 and $990, respectively. This equates to a $3.5% increase in tuition, with non-resident undergraduate tuition and mandatory fees increasing from $26,470 to $27,372 and non-resident graduates from $28,882 to $29,874.
For international undergraduate and graduate students, the proposed increase in tuition equates to 4.5%, or $1,240 for undergraduate and $1,350 for graduate students. Tuition and mandatory fees for international undergraduate students will increase from $28,270  to $29,512 and from $30,682 to $32,034 for international graduate students. To provide context, ASU's international enrollment has more than doubled in the past five years with students from over 135 countries seeking undergraduate and graduate degrees. And according to the Institute of International Education (IIE), ASU is the #1 public  university hosting international students for the 2015-2016 academic year.
As we discussed during ASU's annual Operational and Financial Review, we remain underfunded and yet are working to achieve state investment equivalent to 50 percent of the cost to educate a student. We also continue working hard to diversify our revenue sources while also pursuing cost containment initiatives.

Read the entire ASU 2017-18 tuition proposal
Read the ABOR press release