Western Undergraduate Exchange
The Western Undergraduate Exchange (WUE) is a program coordinated by the Western Interstate Commission for Higher Education (WICHE). Residents of western states (other than Arizona) may enroll in the ASU WUE program at a tuition rate of 150 percent of Arizona base resident tuition plus all applicable fees for fall and spring terms only.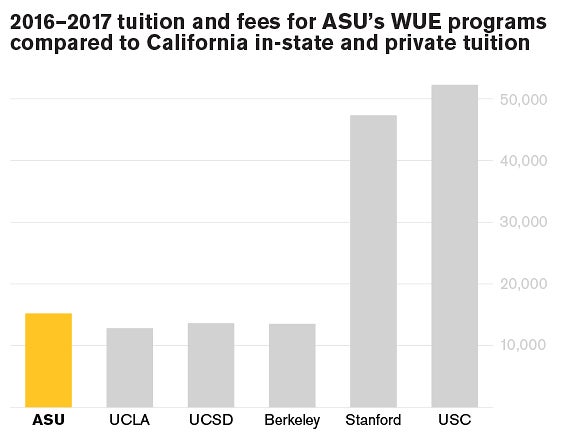 WUE programs are limited to select majors at the Downtown Phoenix, Polytechnic and West campuses.
View WUE degrees [1]
Enrollment Information
Contact Information
For General WUE Information visit the Western Undergraduate Exchange [5] website.
Prospective Student Contact
Admission Services
PO Box 870112, Tempe, AZ 85287-0112
Phone: 480-965-7788
Current students with questions on maintaining eligibility, should contact the University Registrar Services at 602-543-8180 or by emailing WUE@asu.edu [6].