Applying to law schools is a very personal decision, thus, the process will vary considerably from applicant to applicant. Students should take their own preferences and needs into account when evaluating a school.
Law school admissions personnel are usually happy to provide information to prospective applicants. Students should take the opportunity to meet with representatives from law schools around the country by visiting schools of interest to them. In addition, students can learn more about different law schools at the ASU Law School Fair held each fall semester.
Each year, law schools are required to provide information about their incoming classes to the American Bar Association. Students can access this data on each law schools website or access every school by visiting the ABA Required Disclosures website. The Law School Admission Council (LSAC) and National Association for Law Placement (NALP) provide other sources of information.
Guides and Locators
Many questions about the academic aspects of a law school are answered in various publications available on the Web and in libraries and bookstores.
The Official Guide to ABA-Approved Law Schools lists all ABA-approved schools and gives detailed information on each. This guide provides a grid of acceptance rates for various GPA/LSAT combinations for most schools, thereby making it possible for students to determine the percentage of applicants with scores similar to theirs who were admitted to a particular school.
ABA Required Disclosures offers students access to all Standad 509 data reported by law schools yearly. Standard 509 data includes: LSAT medians, GPA averages, Bar Passage Rates, Scholarship Information, deadlines, gender and ethnicity data, and more. 
ABA Employment Summary offers students access to all ABA approved law school data in regards to employment outcomes for recent graduates. Each year, law schools are required to report employment information about their students employment status 10 months after graduating. The data helps students gain a greater understanding of where law schools place their graduates and in what types of jobs. 
Law School Transparency is a website dedicated to holding law schools accountable about their outcomes, and provide quality and consistent information to prospective students. Their law school reports offer a rich experience into job placement data, cost of attendance, and more. 
US News and World Report ranks schools based primarily on reputation, as measured by a survey of law school faculty. In addition, they factor in selectivity, placement success and faculty resources. Ranks may be viewed at their website, as well as a description of the methodology used to create the rankings. Students should not make such life-altering decisions based on the priorities of strangers whose primary goal is the sale of magazines that rank law schools. See the National Association for Law Placement (NALP) caution about rankings.
Lawdragon offers students the ability to create their own rankings of law schools using the factors most important to them. 
Leiter bases rankings on the quality of the faculty and the student body, with extra credit given to schools with exceptionally high-quality teaching.
Bar Exam Stats allows students to hone in on the bar passage rates of all ABA-approved law schools. This tool can be especially useful in seeing how successful students have become in passing the all-important BAR exam upon graduation from law school. 
Sandra Day O'Connor College of Law
Why you should apply
You don't need to move away to go to a great law school. The ASU Sandra Day O'Connor College of Law ranks #9 among the best public law schools in the nation, #3 in the west — offering more than 200 unique courses each year with the ability to tailor your legal education to fit your interests.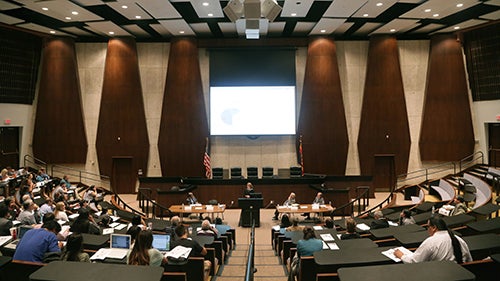 For the majority of students, the most significant factor affecting law school acceptance is academic achievement. Often, where the applicant would like to go to school does not dictate the final choice, but where admission can be obtained. Applications should be submitted to three categories of law schools, as follows.
These are schools that have "numbers" (median GPAs and Law School Admission Test scores) somewhat higher than those of the applicant. Applications should be made to one or two desired schools in this category. Students should emphasize their unique strengths in the application materials in order to stand out from the other applicants. The most prestigious law schools in the country are long shots for even the very best students.
These are schools that have numbers approximating those of the applicant. Applications should be made to as many schools in this category as the applicant is willing to consider attending, a minimum of four or five. If the category is properly identified, an acceptance rate of approximately 50 percent should result.
These are schools that have numbers clearly below those of the applicant, but which the applicant would attend if denials were received from all schools in the other two categories. Applications should be made to one or more schools in this category.
Candidates should be aware that all law schools charge a nonrefundable application fee. Eight to 10 applications are recommended. Following the guidance set forth above should minimize expenses while ensuring almost certain admittance to a legal education.
In addition to making applications based on "numbers," candidates should take into consideration the faculty, the availability of special programs, and the culture of the school, as discussed below.
Candidates should investigate the composition and interests of the faculty at the schools that are being considered. They should determine, for example, the faculty's legal training. They may also want to find out whether faculty members are easily accessible to students. Also, candidates should consider the diversity of the faculty and the ratio of faculty to students.
If a student knows the type of law in which they would like to specialize — trial advocacy, for example, or health, environmental, corporate, or international law — they should determine which schools offer that specialization. Also, the student should determine how much flexibility they will have in tailoring their program. Some schools allow more leeway than others. Certain schools also offer joint programs, allowing students to pursue a master's or doctorate in an academic area while concurrently pursuing their law degree. These programs are usually open only to extraordinarily talented and motivated students. Students should inquire about any additional admission requirements.
Researching the culture of the schools will help in selecting the program that best matches a student's personality and work style. Some schools encourage competition among their students, pitting one against the other in an atmosphere of "survival of the fittest." Other schools are more cooperative, supporting student study groups and providing experienced mentors for first-year students. Candidates should speak with faculty and administrators at each school. They should also inquire about the availability of academic support programs, size and type of student organizations, and the size and composition of the student body. Candidates may also want to inquire about the attrition rate: how many students drop out or fail each year, and why. Speaking with current students, either during a campus visit or by telephone, about their satisfaction level and their perceptions of the school may also be helpful.
When choosing law schools, the future job search should be considered. Law schools publish, or will provide on request, statistics on the rates at which they place graduates in jobs after graduation. Sixty-seven percent of law graduates will find their first job in the same state in which the law school was located. 
For each of the schools to which a student applies, they should find out their placement rate and consider these data as they weigh their choices. Consideration of the locations and types of jobs secured by graduates, as well as any differences in placement between the top 10 percent of the class and the other 90 percent is also important.
Also of importance is whether each school offers career counseling and what support services are available to assist with the job search.
In addition, students should determine what type of clinical, internship and externship opportunities are available, including the number, location and salaries (if any) of these opportunities.
The economic factor entails the actual dollar costs of law school, including tuition, books, room and board, and a consideration of what one gets for the investment. The cost of books and supplies will be considerably more than that paid as an undergraduate, and currently can be greater than $1,000 per year. Students should inquire about any additional class or student fees that might be incurred, as well as the likelihood of tuition increases over the next few years.
Considerably more judgment must go into the computation of general living expenses. Obviously, a specific dollar amount buys more in Tempe than in New York City or Los Angeles. In addition, the kind of accommodations desired may be available within walking distance of one law school or require commuting expenses at another. Thus, the availability and cost of public transportation, car insurance and parking may also become economic considerations.
The above costs, plus all additional living expenses, constitute the economic factor that must be considered when choosing a law school.
Students should also investigate thoroughly the availability of financial support, such as loans, scholarships, and, for second- and third-year students, employment opportunities at the law school or with law firms. Many law students graduate with a large amount of personal debt. This can affect quality of life and career choices. Therefore, it is well worth the time to investigate the economic aspects of each law school before making a final choice about where to attend.
Separate from the economic factor, but closely allied to it, is the geographic factor. Two overlapping considerations make up the bulk of this factor.
The first of these is the acceptability of the law school location with regard to climate, distance from home, availability of recreational and cultural facilities, etc. The law schools of the Universities of Michigan and Chicago are generally considered among the most prestigious in the country, but they may hold little attraction for the native Arizonan or Californian who might accept a less prestigious school in order to escape the rigors of northern or mid-western winters. Similarly, someone who detests the frantic pace of big-city life is likely to reject highly regarded Columbia University in New York City for a school with a less prestigious academic record but one which touts a more relaxed atmosphere.
The community environment can also play a large role in success and happiness during law school. Students should consider visiting the schools on their short list to see first-hand the campus facilities and neighborhoods where they will be living and working.
Closely allied with the above factors is the applicant's perception of where he or she wishes to practice upon completion of law school. For most students, the opportunity to make contacts and begin part-time or summer employment in law firms while still in law school will be an important step toward obtaining a satisfactory position subsequent to graduation. Thus, those who wish to work in Los Angeles, New York City or Washington, D.C., would do well to look closely at law schools within or very near those cities.
Group content visibility:
Public - accessible to all site users