At ASU, we are committed to an enriched student employment experience
The Student Engagement and Employment Development (SEED) Program is designed to help freshman students adjust to college, secure an on-campus job and become more engaged in their campus community. The SEED Program is currently only offered to students during their freshman year who qualify for Federal Work Study and who are not actively working on-campus. ASU offers additional on-campus student employment opportunities for those students looking to continue working after the program ends.
Benefits of participating in the SEED Program: 
Earn money through a convenient, on-campus job
Receive professional development training for immediate and long-term benefits
Engage in valuable one-on-one leadership coaching with your supervisor
Build your skill portfolio within a professional work environment
Financial Aid and Scholarship Services will directly invite new freshman students to participate based on their eligibility for Federal Work-Study. Both domestic in-state and out-of-state resident students qualify for the SEED Program.
To work in a SEED Program position, you must have a SEED award listed on your Financial Aid Notification (FAN) via My ASU.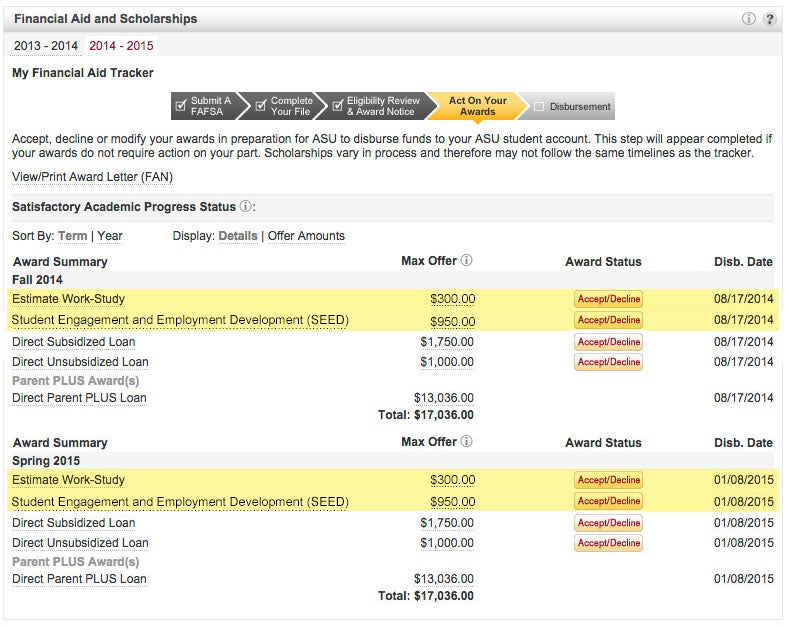 Students must be enrolled at least half-time at ASU; this is 6+ credit hours for undergraduates.
Students must not be currently employed in an on-campus job
Students should not concurrently work an additional job while participating in the SEED Program
Students must not work during the hours they are scheduled for class
Supervisor mentorship and professional development are critical components of the SEED Program. Because one of the goals of this program is to foster an engaging relationship between supervisors and students, we suggest a maximum ratio of one supervisor to every five student workers.
The SEED Program Offers Students:
Bi-weekly mentorship meetings with your supervisor to discuss the transition to college, including work, learning, academics, leadership, service, and career
An invitation to Discover, Develop, and Apply their talents by participating in The Gallup Organization's StrengthsQuest
The application process can take up to 30 minutes. To speed this up, have your resume and 3 references completed before you begin; a resume is required, but a cover letter is not. Review the example first year resume and Career Services' helpful tips, including archived webinars
Contact a Career Counselor to receive feedback on your resume and schedule a mock interview
Practice your interviewing behavior
Go to Job Search
Select "Search On-Campus Jobs"
Enter your ASURITE User ID and Password
Select "Search openings"
Under Student Recruitment Type, select "Student Hire SEED Program"
Click "Search" button
Check the box of the job you are interested in
Click "Apply to job(s)" button.
Complete the Standard Application Qualifying Questions
Upload your Resume
You are not required to submit a cover letter. Please type "SEED Program waiver" into the cover letter text box.
Enter three different references. Some examples include former co-workers, a high school teacher/mentor, religious leader or previous supervisor.
Complete the Equal Employment Opportunity Survey
Submit your Application
Can I apply for a SEED position if I am already working on-campus?
No, the SEED Program is designed for students who currently do not have an on-campus job.
I am interested in the SEED Program, but I just transferred to ASU as a sophomore, am I eligible?
No, the SEED Program is designed for new freshman students during their first semester at ASU.
How do I know if I'm Federal Work-Study Eligible?
You can login into My ASU and review your financial aid package. If you see "SEED Program" listed anywhere, part of your Federal Work-Study award has been transferred to this program; you are eligible.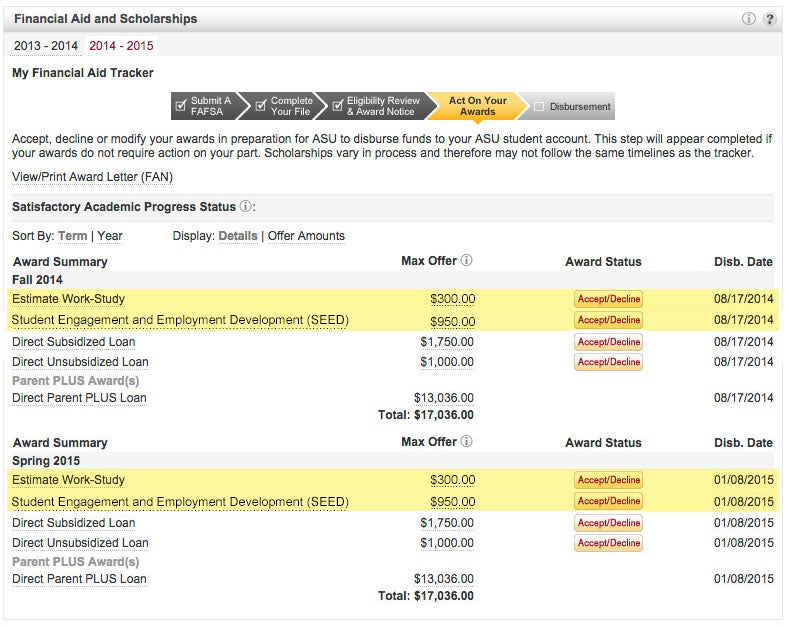 I used to have a Federal Work-Study award, now it says "SEED Program". What happened to my Federal Work-Study money?
Both Federal Work-Study and the SEED Program are linked to similar eligibility qualifications. Additionally, both styles of financial aid are contingent on you landing a qualifying position to activate the award amount. The dollar amount listed is the amount of money you can earn with a position in that program, it is not an automatic disbursement of those funds. Your SEED Program invitation is just a placeholder, you are still eligible to apply to both Federal Work Study and SEED Program positions.
What are the hours and pay of the SEED Program?
The positions are designed for no more than 12 hours per week in the fall semester and no more than 20 hours per week in the spring semester at $10.00 an hour.
How much money can I make in the SEED Program?
For the 2016-17 academic year, the max SEED Program award is $3,500.